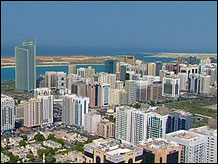 Cartel has agreed to cut oil output by 500,000 barrels a day, or 2 percent, but not until February.
LONDON (Reuters) -- Oil prices jumped on Thursday morning on OPEC's decision to cut oil output by 500,000 barrels a day beginning in February.
Front-month January contracts for U.S. light crude climbed $1.07 to $62.43 a barrel in electronic trading, on top of a 35-cent gain on Wednesday.
In London, Brent crude for January delivery rose $1.09 to $62.42 a barrel.
The U.S. government reported Wednesday that crude stocks fell 4.3 million barrels last week as imports declined, while the International Energy Agency said industrialized countries' crude stocks fell 40 million barrels in October - a trend that continued last month as well.
The numbers strengthened the position of OPEC delegates who preferred to enforce the last cut before adding a new one.
"We are satisfied with the decision we took in Doha," Kuwaiti Oil Minister Sheikh Ali al-Jarrah al-Sabah told reporters, referring to OPEC's emergency gathering in October.
Oil has fallen from a mid-July peak of $78.40
but is still historically high at triple the price at the end of 2001.
Higher Asian demand coupled with worries over supply from Iraq, Nigeria, Iran and Russia helped fuel the rally.
Click