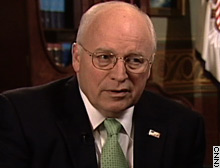 WASHINGTON (CNN) -- I. Lewis "Scooter" Libby's lawyers are debating whether to call Libby's former boss, Vice President Dick Cheney, to the stand, a source with knowledge of the lawyers' discussions told CNN on Thursday.
Libby's lawyers also are debating whether Libby should testify, the source said.
Libby, Cheney's former chief of staff, is on trial in Washington on charges that he lied to investigators and a grand jury investigating the leak of the information that Valerie Plame was a covert CIA operative. Knowingly identifying a covert agent is illegal.
Libby is not charged with leaking the information.
The source said it does not seem a decision has been made about whether either will testify. (
Watch why putting Cheney on the stand could harm the defense
)
Click for more