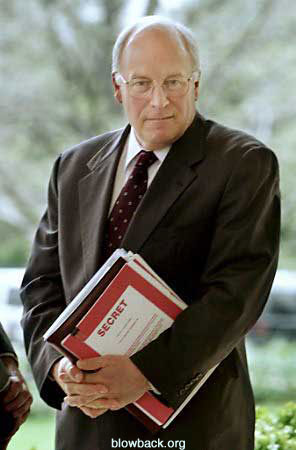 Vice President Dick Cheney is expected to make a "historic appearance" on the witness stand at the trial for his former aide, I. Lewis Libby, who is accused of obstructing justice and lying to officials investigating the Bush Administration's alleged "outing" of a CIA officer, Monday's New York Times reports.
"One witness has dominated the trial of I. Lewis Libby Jr. without even showing up in the courtroom," Scott Shane and Jim Rutenberg write for the Times.
The article continues, "Day after day, the jury has heard accounts of the actions of Vice President Dick Cheney, watched as his handwritten notes were displayed on a giant screen, heard how he directed leaks to the press and ordered the White House to publicly defend Libby, his top aide and close confidante."
"Now, as the defense phase of the perjury trial begins, Cheney is expected to make an historic appearance on the witness stand," the Times reports. "It is an act of loyalty that carries considerable risk for Cheney."
Law professor Peter Shane tells the Times that it could make "great theater," because whatever the vice president testifies to would then become "fair game" for the prosecution to use against him on cross-examination.
"If Cheney makes a statement that conflicts with the public record — and nearly every witness so far has done so at least once — it could prove embarrassing for him and for the administration," Shane and Rutenberg write.
A former federal prosecutor, described by the paper as one who "knows" Special Counsel Patrick J. Fitzgerald personally, says, "If Cheney said anything that's contradicted in the record, though I think that's unlikely, Pat will slam him." The Times' source adds that Fitzgerald will "do it respectfully, but I have no doubt he'll do it."
In addition, a sidebar story, written by David Johnson, is also slated to run in Monday's paper which will take "a look back at instances when presidents or vice presidents were called to testify."
Click for more