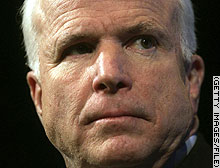 by Basheert @ 3:52 PM MDT
Those of us with the misfortune to have John "Flip Flop" McCain as a Senator are used to this idiot opening his mouth and spewing forth dreck and immediately realizing he sounds like the idiot he is.
Today Mr. McCain used the "tar baby" reference and then immediately realized he'd stepped into a rat hole and tried to squeal his way out.
This is pro forma, SOSDD for John McCain. A man who stakes his life and reputation on being tortured in Vietnam. A man who believes torture qualifies him for not only the Senate but the White House.
All Americans should be very very afraid if Mr. McCain is elected. We will ALL be in a war zone...because that is Mr. McCain's world. War, more War, bigger War, lots of War, War 24 hours a day, War with all our children, War against the Left, War Against the Right....
I won't even go into his adulterous personal life and his wife's stealing painkiller prescriptions.
This man is sick!

READ IT HERE