by Global Evildoer Fighter @ 10:31 PM EDT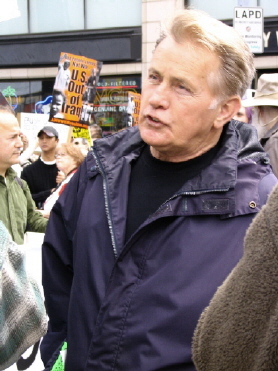 Martin Sheen
was one of several celebrities who participated in the Anti-War March and he was also Interviewed. Sheen appeared on Mosaic which is a Middle Eastern News Broadcast on Link TV, which is carried by DirecTV and others...
Here's what Martin Sheen said, which I believe that
EVERY AMERICAN PERSON
no matter race, color, creed, political, religious, or social affiliation, EVERY AMERICAN should soak these words into their bones until they understand what they mean!
"THE U.S. GOVERNMENT NO LONGER REPRESENTS THE VIEWS AND NEEDS OF THE AMERICAN PEOPLE EITHER DOMESTICALLY OR INTERNATIONALLY!" - MARTIN SHEEN


These words should reverberate into you several times until you understand them! This Means our Government is now acting on it's own and the World now knows it! We the American People must understand what a "Rogue Empire" is and take our Nation back...